Counteracting Mobbing in Labor Legal Relations
Keywords:
an employee, an employer, labor law, mobbing, counteraction, interaction, labor legal relations.
Abstract
The author has made an attempt to characterize mobbing within labor legal relations. It has been determined that it can be horizontal – when the pressure is exerted by colleagues, vertical – by superiors and can be also mixed one.
It has been emphasized that we should in no case underestimate the negative driving impact of mobbing on the psyche, health or even the fate of an employee, who is exposed to it. Harassment at the workplace can provoke feelings of social inferiority, leads to a number of nervous diseases, nervous breakdowns, sleep problems, depression, heart attacks and possible suicide.
It has been noted that one of the most important current tasks of labor protection at enterprises is to create a proper psychological climate for each employee at his workplace.
It has been offered to consider mobbing as a form of discrimination, which is used as psychological terror by the whole team or its member against an employee. Mobbing is a systematic harassment in the form of devaluation of an employee. The Constitution of Ukraine recognizes the honor and dignity of a man as the main value, but the current Ukrainian legislation does not provide any mechanism to combat mobbing in labor relations.
It has been noted that it is necessary to study and use the experience of European countries to combat mobbing at work in order to improve working conditions, create a comfortable psychological atmosphere, to prevent burnout and to protect the professional dignity of employees. International legislation on the stated issue has been studied. There are no certain Articles in Ukrainian labor legislation, which are supposed to protect employees from mobbing.
It has been noted that mobbing is an extremely dangerous and very complex phenomenon in labor collectives. Therefore, aiming at preventing the development and further spread of mobbing, in order to eradicate it from labor legal relations as an anti-labor category at the present stage of development of society, it is important to introduce legal instruments to combat it.
Downloads
Download data is not yet available.
References
Solov'ev A.V. Mobbing: psychological terror in the workplace [Mobbing: psikhologicheskii terror na rabochem meste]. [online] KADROVIK.RU. Available at http://www.kadrovik.ru/modules.php?op=modload&name=News&file=article&sid=1049 [Accessed 15 September 2020].
Tyshchenko O.V., 2008. The phenomenon of mobbing in labour relations: the realities of today [Yavyshche mobinhu v trudovykh pravovidnosynakh: realii sohodennia]. Bûletenʹ Mìnìsterstva ûsticìï Ukraïni, No. 6, pp. 62-68.
Zhornova O. and Zhornova O., 2013. Talent Management in a domestic university: the choice of the optimal way of development [Talent Management u vitchyznianomu VNZ: vybir optymalnoho shliakhu rozvytku]. Viŝa škola, No. 7, pp. 50-58.
Shamshyna I.I., 2006. Socio-legal problems of mobbing in the labour law of European countries and prospects for their reflection in domestic labour legislation [Sotsialno-pravovi problemy mobinhu v trudovomu pravi yevropeiskykh krain i perspektyvy yikh vidbyttia u vitchyznianomu trudovomu zakonodavstvi]. In: Venediktov V.S. (ed.) Labour law of Ukraine in the context of European integration [Trudove parvo Ukrainy v konteksti yevropeiskoi intehratsii]. Kharkiv, 25-27 May. Kharkiv: Kharkivskyi natsionalnyi universytet vnutrishnikh sprav.
Barabash A.T., 1997. Some properties of labour relations [Deiaki vlastyvosti trudovykh vidnosyn]. Pravo Ukraïni – Law of Ukraine, No. 8, pp. 53-57.
Baru M.I., 1995. On the way to a new labour code [Na puti do novoho trudovoho kodeksu]. Pravo Ukraïni – Law of Ukraine, No. 5-6, pp. 26-27.
Shkatulla V., 1997. Humanization of labour relations: a conscious need [Gumanizatsiya trudovykh otnoshenii: osoznannaya neobkhodimost']. Čelovek i trud, No. 2, pp. 94-96.
Sorokin D., 2004. Psychological health of the workforce – the key to its productive activities [Psikhologicheskoe zdorov'e trudovogo kollektiva – zalog ego produktivnoi deyatel'nosti]. Upravlenie personalom, No. 8-9, pp. 68-73.
Overchuk V.A., 2019. Mobbing as a form of psychological violence in the workforce [Mobinh yak forma psykholohichnoho nasyllia v trudovomu kolektyvi]. Teorìâ ì praktika sučasnoï psihologìï – Theory and Practice of Modern Psychology, No. 1, Vol. 2, pp. 185-188.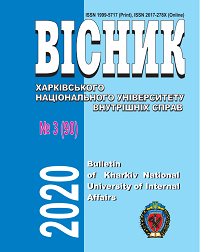 How to Cite
Honcharuk , V. V. (2020) "Counteracting Mobbing in Labor Legal Relations", Bulletin of Kharkiv National University of Internal Affairs, 90(3), pp. 70-77. doi: 10.32631/v.2020.3.07.
Section
Labor Law; Social Guaranteeing Law
Copyright (c) 2020 V. V. Honcharuk
This work is licensed under a Creative Commons Attribution 4.0 International License.