Дослідження процесу становлення інституту покарань у праві держав Стародавнього світу
Keywords:
punishment, chastisement, antiquity, law.
Abstract
Review on: Логвиненко Є. С. Покарання в праві держав Стародавнього світу / Є. С. Логвиненко, І. А. Логвиненко. — Харків : ФОП Панов А. М., 2019. — 252 с.
Downloads
Download data is not yet available.
References
Логвиненко Є. С. Покарання в праві держав Стародавнього світу / Є. С. Логвиненко, І. А. Логвиненко. — Харків : ФОП Панов А. М., 2019. — 252 с.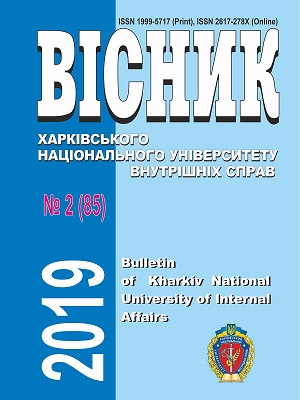 How to Cite
Grechenko, V. A. (2019) "Дослідження процесу становлення інституту покарань у праві держав Стародавнього світу", Bulletin of Kharkiv National University of Internal Affairs, 85(2), pp. 112-114. Available at: http://visnyk.univd.edu.ua/index.php/VNUAF/article/view/218 (Accessed: 2July2020).
Copyright (c) 2019 A. V. Grechenko
This work is licensed under a Creative Commons Attribution 4.0 International License.