The procedural component of legal liability
Keywords:
legal liability, liability, procedural activity, law-enforcement activity, enforcement
Abstract
The procedural component of legal liability has been determined and analyzed. It has been proved that, first, legal liability arises only if there are necessary grounds, including the procedural basis; and secondly, the procedure for bringing to legal liability is determined by the norms of procedural law; thirdly, legal liability is implemented through the law-enforcement activities of the state.
It has been substantiated that the fact of the possibility to bring the relevant subject to liability (in private relations) with the help of state agencies affects the awareness of the subject of liability and induces him to voluntarily "take and bear" legal liability. Private liability is realized indirectly through the law-enforcement activity of the state and forms the marginal type of lawful conduct.
Attention has been paid to the fact that, unlike public law branches, it is sometimes sufficient to have two grounds (regulatory and factual) in private law branches to bring to justice and to induce legal liability.
It has been emphasized that the process of the realization of liability in private law differs from the process of its implementation in public law. However, bringing to liability both in public and in private law is regulated by procedural norms and is implemented within the framework of procedural relations that serve as a form of relations of legal liability.
Downloads
Download data is not yet available.
References
Kalenichenko L.I., 2016. Legal compliance as a phenomenon of objective law [Yurydychna vidpovidalnist yak yavyshche obiektyvnoho prava]. Pravo bezpeka, No. 2, pp. 31-37.
Vershinina S.I., 2009. Legal responsibility as the kind of the state compulsion [Yuridicheskaya otvetstvennost` kak vid gosudarstvennogo prinuzhdeniya]. Vektor nauki Tolʹâttinskogo gosudarstvennogo universiteta – Science Vector of Togliatti State University, No. 5, pp. 23-30.
Vitruk N.V., 2001. Constitutional responsibility: issues of theory and practice [Konstitutsionnaya otvetstvennost`: voprosy teorii i praktiki]. In: Avak`yan S.A. (ed.). Constitutional and legal responsibility: Problems of Russia, experience of foreign countries [Konstitutsionno-pravovaya otvetstvennost`: problemy Rossii, opyt zarubezhnykh stran]. Moscow: MGU. Pp. 33-35.
Kruss V.I., 2006. Constitutional criteria of legal responsibility [Konstitutsionnye kriterii yuridicheskoi otvetstvennosti]. Konstitucionnoe i municipalʹnoe pravo – Constitutional and Municipal Law, No. 4, pp. 15-22.
Slynko D.V., 2017. Legal process: history, theory, practice [Yurydychnyi protses: istoriia, teoriia, praktyka]. Kharkiv: NTMT. P. 321.
Slynko D.V., 2015. Features of law enforcement process in the activities of internal affairs agencies [Osoblyvosti pravozastosovnoho protsesu v diialnosti orhaniv vnutrishnikh sprav]. Pravo bezpeka, No. 3, pp. 97-102.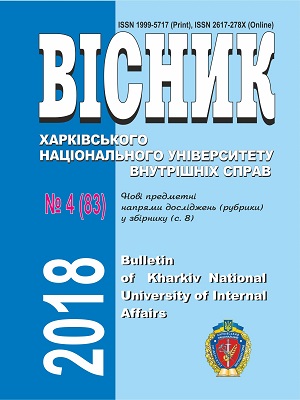 How to Cite
Kalenichenko, L. I. and Slynko, D. V. (2018) "The procedural component of legal liability", Bulletin of Kharkiv National University of Internal Affairs, 83(4), pp. 11-18. doi: 10.32631/v.2018.4.01.
Section
FUNDAMENTAL PROBLEMS OF THE STATE AND LAW
Copyright (c) 2018 L. I. Kalenichenko, D. V. Slynko
This work is licensed under a Creative Commons Attribution 4.0 International License.