FORMATION OF LEGAL CULTURE OF THE OFFICERS OF THE NATIONAL POLICE OF UKRAINE
O. O. Diakova

Kharkiv National University of Internal Affairs
Keywords:
legal culture, police officers, reform of the Ministry of Internal Affairs, professional legal culture
Abstract
The issue of interpretation of the content of legal culture in general and legal awareness in particular has been studied. Particular attention is paid to legal awareness and legal culture of police officers in Ukraine, to the conditions of formation of legal culture within difficult for Ukraine period of the formation of a democratic European country, because in most countries of the world the key factor in the police training is to form certain personal qualities. A comparative analysis of the formation process of legal culture of police officers in Ukraine and during the Soviet times has been conducted.
Attention is paid to conditions causing the direct impact on the officers of the National Police of Ukraine in the course of professional activities, as factors in the formation of legal awareness.
It is emphasized that raising the level of legal culture of police officers will contribute to the formation of legal country, as the subject of legal enforcement itself will declare by own example the importance of this principle and the formation of a democratic state, where human rights and freedoms are respected and protected.
The propositions to raise the level of legal awareness and legal culture of Ukrainian police officers have been provided.
Downloads
Download data is not yet available.
References
Чернєй В. В. Реформування ОВС: сучасний стан та перспективи / В. В. Чернєй // Роль правоохоронних органів у формуванні правової держави в умовах євроінтеграції України : матеріали Всеукр. підсумк. наук.-практ. конф. (Київ, 12 берез. 2015 р.) Ч. 1. – Київ, 2015. – C.4–7.
Концептуальні підходи до реформування органів внутрішніх справ як складової правоохоронної системи та сектору безпеки та оборони України : інформац.-аналіт. матеріали до Круглого столу «Концептуальні підходи до реформування МВС у контексті загальнонаціонального плану реформ», 16 квіт. 2015р. / Центр Разумкова. – Київ : [б.в., б.р.]. – 2015. – 56 с.
Сурков К. В. Повышение правовой культуры среди юристов в судебных и правоохранительных органах России / К. В. Сурков // Право и безопасность. – 2011. – № 1 (38). – С. 71–73.
Сливка С. С. Професійна культура працівника міліції : монографія / С. С. Сливка. – Львів : Вільна Україна, 1995. – 95 с.
Теория государства и права : учеб. пособие : конспект лекций в схемах и определениях / под ред. Л. В. Смирнова. – М. : Книж. мир, 2004. – 309 с.
Попадинець Г. Правова культура як важливий елемент правової культури України [Електронний ресурс] / Г. Попадинець // Вісник Національного університету «Львівська політехніка». – № 782 : Юридичні науки. – 2014. – С. 123–128. – Режим доступу: http://science.lp.edu.ua/sites/default/files/Papers/25.pdf.
Козюбра М. Право як явище культури / М. Козюбра // Право та культура: теорія і практика : Міжнар. наук.-практ. конф., 15–16 трав. 1997 р. – Київ : МП «Леся», 1997. – С. 28–30.
Нечипоренко А. Нормотворча діяльність у правовій державі [Електронний ресурс] / Антон Нечипоренко // Публічне право. – 2012. – № 4 (8). – С. 375–381. – Режим доступу: http://www.yourfuture.org.ua/ua/pb/2012/8/Nechypurenko.pdf.
Болдырева М. Г. Правовая культура : лекция / М. Г. Болдырева ; Моск. юрид. ин-т. – М. : МЮИ, 1998. – 35 с.
Романова А. Правомірна поведінка як умова самоствердження людини / А. Романова // Юридичний вісник.  2014.  № 6.  С. 91–95.
Черданцев А. Ф. Толкование права и договора / А. Ф. Черданцев. – М. : Юнити-Дана, 2003. – 381 с.
Петров А. В. Юридическое образование как элемент правовой культуры общества / А. В. Петров, М. К. Горбатова // Вестник Нижегородского университета им. Н. И. Лобачевского. – 2007. – № 3. – С. 175–182.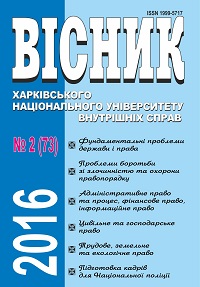 How to Cite
Diakova, O. O. (2018) "FORMATION OF LEGAL CULTURE OF THE OFFICERS OF THE NATIONAL POLICE OF UKRAINE", Bulletin of Kharkiv National University of Internal Affairs, 73(2), pp. 189-199. Available at: http://visnyk.univd.edu.ua/index.php/VNUAF/article/view/170 (Accessed: 28September2020).
Section
TRAINING OF NATIONAL POLICE PERSONNEL
Copyright (c) 2016 O. O. Diakova
This work is licensed under a Creative Commons Attribution 4.0 International License.