SOME PROBLEMS OF ADMINISTRATIVE AND LEGAL REGULATION OF LOCAL TAXES AND CHARGES IN UKRAINE
L. P. Kovalenko

Yaroslav Mudryi National Law University
Keywords:
administrative and legal regulation, local taxes and charges, taxation territory, taxation competence, local self-government, tax preferences, tax sovereignty
Abstract
The author has considered the implementation of administrative and legal regulation of local taxes and charges in Ukraine and offered recommendations for its improvement. Particular attention is paid to the definition of the varieties of things of local self-government administration in the tax area. The author has revealed the problems of administrative and legal regulation of tax and legal regimes depending on the territory, where the taxation is made.
Analyzing the implementation of legal regulation of taxation relations, it has been suggested to combine the existing tax payments into relatively isolated groups and categories, characterized by a common legal regime, including the conditions for their establishment, enactment, collection features and their mechanisms. It has been stressed that such a systematization of taxes and charges is the best for their research, preparation of relevant propositions and conclusions for improving the quality of legal regulation of the tax sphere. It is indicated on the dynamism inherent in the sub-system of local taxes and charges in the aspect of modifying its structure and filling with specific charges and taxes compared with other groups of taxes and charges.
The author has concluded about the need to expand the range of taxpayers of tourist tax for legal entities, ordering services of temporary accommodation for their employees or other individuals, as well as for individuals, who arrived on business trips. To accomplish this, it has been offered to amend and make alterations to the current tax and administrative legislation of Ukraine with the aim of a balanced distribution of the tax-privileged powers between authorities and improvement of legal regulation of special tax regimes.
Downloads
Download data is not yet available.
References
Бех Г. В. Правовое регулирование косвенных налогов в Украине : монография / Г. В. Бех ; под ред. проф. Н. П. Кучерявенко. – Харьков : Легас, 2003. – 128 с.
Кофлан В. М. Правове регулювання місцевих податків і зборів в Україні / В. М. Кофлан. – Ірпінь : НДІ фін. права НАДПСУ, 2005. – 175 с.
Кушнарьова Т. Є. Система податкових органів України / Т. Є. Кушнарьова, М. П. Кучерявенко. – Харків : Торсінг, 2000. – 192 с.
Податкове право : навч. посіб. / за ред. М. П. Кучерявенка. – Київ : Юрінком Інтер, 2003. – 400 с.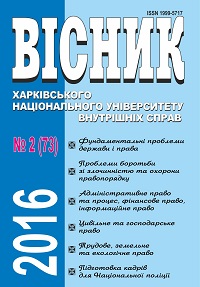 How to Cite
Kovalenko, L. P. (2018) "SOME PROBLEMS OF ADMINISTRATIVE AND LEGAL REGULATION OF LOCAL TAXES AND CHARGES IN UKRAINE", Bulletin of Kharkiv National University of Internal Affairs, 73(2), pp. 102-110. Available at: http://visnyk.univd.edu.ua/index.php/VNUAF/article/view/158 (Accessed: 28September2020).
Section
ADMINISTRATIVE LAW AND PROCESS, FINANCIAL LAW, INFORMATION LAW
Copyright (c) 2016 L. P. Kovalenko
This work is licensed under a Creative Commons Attribution 4.0 International License.