THE PROCEDURE OF FORMING INFORMATION AND SEARCH SYSTEMS WITHIN THE MINISTRY OF INTERNAL AFFAIRS
M. M. Perepelitsa

Kharkiv National University of Internal Affairs

K. A. Volodko

Kharkiv National University of Internal Affairs
Keywords:
integrated information and search systems, information subsystems, algorithm, criminal investigation units, informatization
Abstract
Recently, in Ukraine there is more intensive implementation of modern information technologies in the life of the state, particularly in the activities of internal affairs agencies of Ukraine in general and the National Police of Ukraine in particular. Considering the fact that modern technologies constantly progressing and this issue requires constant learning and improvement, the author of this scientific article has highlighted the relevant issues of informatization of police departments.
In the light of recent tendencies the reform and modernization in the field of law enforcement activities the author emphasizes the importance of the issue of informatization of the units carrying out operative and search activities. The study also examined the latest relevant legislation, which was passed as a result of reforms in the country.
The basic information subsystems of integrated information and search system of internal affairs agencies of Ukraine, which are provided with the information by criminal investigation units. Based on the conducted analysis the author has highlighted the main problems of information provision of operative units.
Downloads
Download data is not yet available.
References
Про інформацію : закон України від 2 жовт. 1992 р. № 2658-XII [Електронний ресурс]. – Режим доступу: http://zakon.rada.gov.ua/laws/show/2657-12.
Арістова І. В. Державна інформаційна політика та її реалізація в діяльності органів внутрішніх справ України: організаційно-правові засади : дис. … д-ра юрид. наук : 12.00.07 [Електронний ресурс] / Арістова Ірина Василівна. – Харків, 2002. – Режим доступу: http://mego.info/матеріал/дисертація-з-права-державна-інформаційна-політика-та-її-реалізація-в-діяльності-органів-вну.
Навчально-методичні матеріали з дисципліни «Інформаційне забезпечення ОВС» [Електронний ресурс]. – 15 с. – Режим доступу: http://www.naiau.kiev.ua/nnipfpskm/files/KIT/NMM-izovs.doc.
Департамент інформаційної підтримки та координації поліції «102» Національної поліції України [Електронний ресурс] // Національна поліція України : тимчас. веб-сайт. – 17.02.2016. – Режим доступу: http://www.npu.gov.ua/uk/publish/article/1820541.
Білецький В. О. Інформаційне забезпечення оперативно-розшукової діяльності у прикордонній сфері / В. О. Білецький // Публічне управління: теорія та практика. – 2013. – Вип. 2. – С. 176–180. – Режим доступу: http://nbuv.gov.ua/UJRN/Pubupr_2013_2_31.
Бандурка О. М. Теорія і практика оперативно-розшукової діяльності : монографія / О. М. Бандурка. – Харків : Золота миля, 2012. – 620 с. 7. Про оперативно-розшукову діяльність : закон України від 18 лют. 1992 р. № 2135-XII [Електронний ресурс]. – Режим доступу: http://zakon.rada.gov.ua/laws/show/2135-12.
Методичні рекомендації щодо алгоритму дій користувачів з організації формування Інтегрованої інформаційно-пошукової системи органів внутрішніх справ України : надісл. вказівкою МВС України від 16 січ. 2014 р. № 727/Зр. – Київ : МВС України, 2014. – 81 с.
Кримінальний процесуальний кодекс : закон України від 13 квіт. 2014 р. № 4651-VI [Електронний ресурс]. – Режим доступу: http://zakon.rada.gov.ua/laws/show/4651-17.
Інструкція з організації взаємодії органів досудового розслідування з іншими органами та підрозділами внутрішніх справ у попередженні, виявленні та розслідуванні кримінальних правопорушень : затв. наказом МВС України від 14 серп. 2012 р. № 700 [Електронний ресурс]. – Режим доступу: http://document.ua/pro-organizaciyu-vzaemodiyi-organiv-dosudovogo-rozsliduvannj-doc119907.html.
Методичні рекомендації щодо порядку роботи з електронною карткою обліку доручень на проведення слідчих (розшукових) дій в інформаційній підсистемі «Слідство: доручення» Інтегрованої інформаційно-пошукової системи органів внутрішніх справ України : надісл. вказівкою МВС України від 3 жовт. 2014 р. № 21248/Ск. – Київ : МВС України, 2014. – 34 с.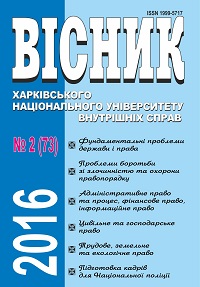 How to Cite
Perepelitsa, M. M. and Volodko, K. A. (2018) "THE PROCEDURE OF FORMING INFORMATION AND SEARCH SYSTEMS WITHIN THE MINISTRY OF INTERNAL AFFAIRS", Bulletin of Kharkiv National University of Internal Affairs, 73(2), pp. 75-86. Available at: http://visnyk.univd.edu.ua/index.php/VNUAF/article/view/154 (Accessed: 28September2020).
Section
PROBLEMS OF CRIME COMBATING AND KEEPING PUBLIC ORDER
Copyright (c) 2016 M. M. Perepelitsa, K. A. Volodko
This work is licensed under a Creative Commons Attribution 4.0 International License.