THE COUNCIL OF EUROPE ACTIVITY ON COMBATING HUMAN TRAFFICKING
A. V. Voytsihovskyi

Kharkiv National University of Internal Affairs
Keywords:
Council of Europe, human trafficking, Parliamentary Assembly of the Council of Europe, Cabinet of Ministers of the Council of Europe, Group of Experts on Action against Trafficking in Human Beings (GRETA)
Abstract
The analysis of the international and legal base of the Council of Europe as a center of activities aimed at combating human trafficking has been accomplished. Special attention has been paid to the research of the Council of Europe Convention on Action against Trafficking in Human Beings, which came into force on March 1, 2011 for Ukraine and provides the opportunity to implement the modern international and legal standards on combating human trafficking in Ukraine, to provide legal conditions required for closer cooperation with the countries – members of the Council of Europe in the fight against human trafficking.
It is noted that the Group of Experts on Action against Trafficking in Human Beings (GRETA), which monitors the implementation of the Convention by the states that have ratified it, noted the important steps made by Ukraine in the fight against human trafficking in its report in 2014, at the same time it provided a number of recommendations to the authorities of Ukraine to improve the state policy on combating human trafficking, particularly regarding the development of cooperation between the authorities and the public in this area.
Despite the positive developments, Ukraine needs to adopt a wide range of measures aimed at inavailability of human trafficking, namely the measures to increase the public awareness on human trafficking issues to eradicate the causes of this phenomenon, measures to combat human trafficking for labor exploitation (economic situation increases the vulnerability of the population to modern slavery) and sexual exploitation of women.
It is extremely important for Ukraine to solve issues to provide effective assistance to internally displaced persons (women, children and persons with disabilities who are vulnerable in the context of human trafficking). Addressing the needs of internally displaced in Ukraine requires at least the streamline regulatory activities to combat this horrendous phenomenon, including the development and adoption of the Comprehensive Program of Assistance to Immigrants in Ukraine.
Downloads
Download data is not yet available.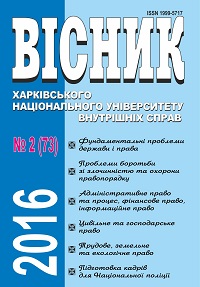 How to Cite
Voytsihovskyi, A. V. (2018) "THE COUNCIL OF EUROPE ACTIVITY ON COMBATING HUMAN TRAFFICKING", Bulletin of Kharkiv National University of Internal Affairs, 73(2), pp. 45-54. Available at: http://visnyk.univd.edu.ua/index.php/VNUAF/article/view/150 (Accessed: 28September2020).
Section
PROBLEMS OF CRIME COMBATING AND KEEPING PUBLIC ORDER
Copyright (c) 2016 A. V. Voytsihovskyi
This work is licensed under a Creative Commons Attribution 4.0 International License.