Separate Aspects of Saving the Confidentiality of People Collaboration With Law Enforcement Bodies
Keywords:
confidant, security, guarantees of protection, operative and search activity, law enforcement agencies.
Abstract
The organizational and legal provision of security of confidential cooperation in Ukraine has been analyzed. The information on modern problems of ensuring security of the Institution of confidential cooperation has been systematized. The risks arising during the confidential cooperation have been outlined. The author has raised the issue of keeping the balance in ensuring security of a confidant's personality on the one hand and the need of procedural recording of the information obtained from the confidant on the other hand. Normative and legal regulation of protecting confidants in Ukraine and abroad has been compared. The problematic issues of guarantees for the protection of confidants in the Ukrainian legislation have been revealed; the ways to solve them have been offered. The protective mechanisms that in one form or another should be applied to the confidants have been analyzed: guarantees of social and legal protection, restrictions on the use of certain categories of persons as confidants, etc. The issue of ensuring the safety of the confidants after the cooperation with law enforcement agencies has been raised. The author has offered to establish appropriate security measures for such confidants, to determine the reasons and grounds for the application of such measures, and to outline the mechanism of the implementation of such measures at the regulatory level.
The limits of permissible behavior of confidants during the fulfillment of crime counteraction tasks have been studied. It has been offered to supplement the Art. 43 of the Criminal Code of Ukraine with the norm that would extend the rights of persons who under the law, perform a special task by participating in an organized group or criminal organization, to confidants, who assist law enforcement agencies in preventing and/or investigating a serious or particularly serious crime.
In the context of involving a confidant in accomplishing the tasks of criminal investigation, the author has offered to provide a separate, secret investigative (search) action, which, by analogy with the norm of the Art. 272 of the Criminal Procedural Code of Ukraine should be conducted according to the resolution of an investigator, agreed with the head of the pre-trial investigation agency, and the decision of a prosecutor.
Downloads
Download data is not yet available.
References
Ross J.E., 2008. Undercover Policing and the Shifting Terms of Scholarly Debate: The United States and Europe in Counterpoint. The Annual Review of Law and Social Science, Vol. 4, pp. 239-273. https://doi.org/10.1146/annurev.lawsocsci.4.110707.172416.
Batyrbekov T.T. and Zheenbaeva A., 2015. The Security Safeguards of Persons Contributing to the Realization of Operatively-Search Activity [O garantiyakh bezopasnosti lits, sodeistvuyushchikh osushchestvleniyu operativno-rozysknoi deyatel`nosti]. Izvestiâ vuzov Kyrgyzstana, No 5, pp. 191-193.
Ross J.E., 2002. Tradeoffs in Undercover Investigations: A Comparative Perspective. The University of Chicago Law Review, Vol. 69, No. 3, pp. 1501-1541.
Tarasenko R.V. and Lubchik V.B., 2015. Ensuring the Confidentiality of Information about the Individual that Draws on the Tacit Basis for Carrying Out Expeditious Purchase of Narcotic Drugs and Psychotropic Substances [Zabezpechennia konfidentsiinosti vidomostei pro osobu, yaka zaluchaietsia na nehlasnii osnovi do provedennia operatyvnoi zakupky narkotychnykh zasobiv i psykhotropnykh rechovyn]. Law Bulletin – Ûridičnij bûletenʹ, Iss. 1, pp. 106-113. Available at http://nbuv.gov.ua/UJRN/ub_2015_1_18 [Accessed 25 December 2018].
Shelud`ko A.A. and Komarov V.A., 2011. Protection of Persons that Assisting the Internal Affairs Bodies in the Fight Against Organized Crime [Zashchita lits, sodeistvuyushchikh organam vnutrennikh del v bor`be s organizovannoi prestupnost`yu]. Vestnik Kaliningradskogo ûridičeskogo instituta MVD Rossii – Bulletin of Kaliningrad Institute of MIA of Russia, No. 4, pp. 35-37.
Tuzov L.L. and Sheisheev A.D., 2012. Legislation that Regulating Operational-Search Activity in the Russian Federation, the CIS Countries and the Baltic States [Zakonodatel`nye akty, reglamentiruyushchie operativno-razysknuyu deyatel`nost` v Rossiiskoi Federatsii, stranakh SNG i Baltii]. Moscow: Yuniti-Dana. (Ed.: Klimov I.A.).
Es`kov S.V. and Kozachenko A.I., 2014. Social and Legal Protection of Persons that Involved in Confidential Cooperation in Order to Crime Counteraction: A Comparative Legal Analysis [Social`naya i pravovaya zashchita lits, privlekaemykh k konfidentsial`nomu sotrudnichestvu v celyakh protivodeistviya prestupnosti: sravnitel`no-pravovoi analiz]. Vesnik Grodzenskaga dzâržaǔnaga unìversìtèta ìmâ Ânkì Kupaly. Seryâ 4, Pravaznaǔstva – Vesnik of Yanka Kupala State University of Grodno. Series 4. Jurisprudence, No. 2, pp. 78-84.
Pidiukov P.P., Paniotov Ye.K, Koniushenko Ya.Yu. and Kaminska O.V., 2013. National Legislation of European Countries Concerning International Cooperation of Law Enforcement Bodies in Conducting Joint Undercover Operations (Undercover Investigations) [Natsionalne zakonodavstvo krain Yevropy shchodo mizhnarodnoho spivrobitnytstva pravookhoronnykh orhaniv pry provedenni spilnykh ahenturnykh operatsii (taiemnykh rozsliduvan)]. The Collection of Scientific Papers of Irpin Finance-Juridical Academy (Economics, Law) [Zbirnyk naukovykh prats Irpinskoi finansovo-yurydychnoi akademii (ekonomika, pravo)], Iss. 2, pp. 126-133. Available at http://nbuv.gov.ua/UJRN/znpifyua_2013_2_22 [Accessed 25 January 2019].
Rich M.L., 2010. Coerced Informants and Thirteenth Amendment Limitations on the Police-Informant Relationship. Santa Clara Law Review, Vol. 50, No. 3, pp. 681-745. Available at http://digitalcommons.law.scu.edu/lawreview/vol50/iss3/3 [Accessed 18 December 2018].
Teplyakov A.G., 2013. "Waste Material": The Mass Liquidation of the Undercover Human Sources of the Soviet Special Services in the 1920-1930s ["Otrabotannyi material": massovaya likvidatsiya sekretnoi agentury sovetskikh specsluzhb v 1920-1930-e gg.]. Otečestvennaâ istoriâ – Russian History, No. 4, pp. 101-115.
Gorbachev A.V., 2017. Legal Analysis of Ensuring the Security of Personsinvolved in the Performance of the Operational-Investigative Activity Problems under Tacit and Confidential Cooperation [Pravovyi analiz zabezpechennia bezpeky osib, zaluchenykh do vykonannia zavdan operatyvno-rozshukovoi diialnosti pid chas nehlasnoho i konfidentsiinoho spivrobitnytstva]. Forum Prava – Forum of Law, [online] No. 5, pp. 99-105. https://doi.org/10.5281/zenodo.1193928.
Perepelitsa M.M., 2015. Some Issues of Improving the Institution of Assistance to Operative Units by People [Deiaki pytannia udoskonalennia instytutu spryiannia osib operatyvnym pidrozdilam]. Pravo bezpeka – Law and Safety, No. 4, pp. 137-141.
Domanov D.V., 2012. Imitation of Criminal Behavior [Imitatsiya prestupnogo povedeniya]. Vestnik Vostočno-Sibirskogo instituta MVD Rossii – Bulletin of the East Siberian Institute of the Ministry of Internal Affairs of the Russian Federation, No. 1, pp. 47-54.
Gusev V.A., 2007. Compensation for Damage Caused by a Person Who Provides Confidential Assistance to Operational Units of Internal Affairs Bodies [Vozmeshchenie ushcherba, prichinennogo litsom, okazyvayushchim konfidencial`noe sodeistvie operativnym podrazdeleniyam organov vnutrennikh del]. Policejskoe pravo – Police Law, No. 2, pp. 146-149.
Fomin S.B. and Turov V.D., 2017. Infiltration: Past, Present and Future [Operatyvne vprovadzhennia: mynule, sohodennia ta maibutnie]. Aktualʹnì problemi vìtčiznânoï ûrisprudencìï – Actual problems of native jurisprudence, No. 6, Vol. 1, pp. 148-152.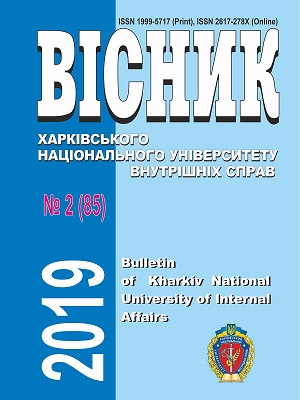 How to Cite
Davydiuk, V. M. (2019) "Separate Aspects of Saving the Confidentiality of People Collaboration With Law Enforcement Bodies", Bulletin of Kharkiv National University of Internal Affairs, 85(2), pp. 95-104. doi: 10.32631/v.2019.2.09.
Section
Criminal Procedure and Criminalistics; Forensic Examination; OSA
Copyright (c) 2019 V. M. Davydiuk
This work is licensed under a Creative Commons Attribution 4.0 International License.